Have you been keeping up on your diet? These times have been tough on everyone and their routine diet. Some may have been resorting to stress-eating to cope up with the effects of the pandemic. These factors may lead to an increase in the consumption of unhealthy foods. Even without the pandemic, in 2016 alone, the World Health Organization has noted that worldwide obesity has steadily increased at a rapid rate and has recorded more than 1.9 billion adults to be overweight! Luckily, over the years, more and more people have been gearing towards choosing healthier eating habits such as going vegan or vegetarian. In America, the percent of the population who have gone vegan grew to a whopping 600% – that's from approximately 4 million in 2014 to 19.6 million in 2017! We always see the words vegan and vegetarian when we talk about a healthier lifestyle, but what are they really? Are they really good for us?
By definition, vegetarianism is a broad term used to define an individual who practices a diet that excludes the consumption of meat, poultry, seafood, or any products that contain these; whereas veganism also excludes dairy, eggs, and other animal-derived foods from their diet in addition to meat. Despite the lack of some nutrients such as protein, iron, and vitamin B-12, these diets have been linked to having multiple health benefits such as the decreased risk of obesity, type-2 diabetes, and cardiovascular diseases.
More than these technical terms, veganism, and vegetarianism have deeper principles rooted into them. Both diets have been also described as a way of living without the exploitation of and cruelty to animals. Over the years, these types of diets have been positioned as part of an individual's identity and self-image or a way of self-expression. Some even see veganism and vegetarianism as a form of activism allowing individuals to align their ethical and moral stance against the exploitation of animals.
For those who have been religious to their diets, these times may prove to be really tough to get a hold on your local and healthy produce while avoiding contact. Despite this, people always find ways to adapt and thrive in every situation. The recent and fast-growing trend in America has focused its light on food delivery services, but wait, there's more!
In addition to just letting you skip the long lines in groceries and risking unwanted contact, food companies have become more inclusive with their strategies. Services have expanded from allowing you to choose from a list of meals like in fast-food chains to letting you customize your own meal. Do you know what makes this trend better? They deliver these organically sourced meal kits right at your doorstep!
Let's focus on one of the most talked-about food services that lets you choose your own meal based on your preferences and even gives you the opportunity to cook it yourselves by providing the instructions with the meal kits.
What is Sun Basket?
That's right! We're talking about none other than Sun Basket! This company is part of the meal kit industry which allows customers with specific dietary needs to choose their own meals and let them cook it themselves. Talk about being your own chef! Sun Basket, which hails from San Francisco, has been around for less than a decade but has established themselves in their niche. Popular for providing an array of choices for consumers. In addition, Sun Basket not only prides itself in its meals curated by the award-winning chef Justine Kelly and their dietitian-approved meal plans, they also highlight that consumers are assured that their products are 100% organic and follow a farm-to-table concept. As if we're still unimpressed, Sun Basket only uses seafood that has been recommended by the Monterey Bay Aquarium Seafood Watch® Program.
In Sun Basket, they value every consumer's point of view and beliefs when it comes to dietary concerns. This company boasts having meal plan selections for paleo, gluten-free, carb-conscious, keto, and of course vegan- and vegetarian-based diets. Before we even begin dipping into the basket, we must know how things work.
How does Sun Basket work?
As the age of technology has continuously grown, things have become relatively accessible anywhere you are. With just a click or touch of your finger, you get a full meal plan and ingredients for your supper. Sun Basket takes advantage of this avenue. It lets you choose from a set of planned menus that are available for either two or four servings. Oh, and did we mention that they have different plans for each week? That's right! No more "this again?" or "can we get something else?" from the kids, or you, as Sun Basket offers a wide variety of customizable meal plans every week.
Now you might've already clicked on the menu on their website, and chances are some of you might have been overwhelmed by the choices as there are literally hundreds each week. As the indecisive personality in us kicks in, Sun Basket has us covered! Sun Basket allows you to filter the menu based on your preferences. No need to get tempted by that Honey-harissa Porkchops when you're on a strict vegan diet! You can easily filter the menu to selections such as vegan, vegetarian, and the likes.
If you're a busy, working-at-home kind of person and you just don't have the time to cook too long, you can filter the menu to meals that would only take less than 20 minutes to prepare. Awaken the Masterchef in you and get that meal prepared (and plated) in no time! Just to be sure you're getting that much-needed calorie per serving, but not too much of it, Sun Basket also notes the number of calories you consume for each serving. Recipes are super easy that with just four steps, you already have your meal.
This website lets you build your basket while carefully considering your chosen diet. Sun Basket asks you the following questions:
Do you follow a particular diet?
Do you avoid any proteins?
Do you avoid any foods?
How Many People are you cooking for?
How many dinners per week?
As of the moment, the only places that Sun Basket has not reached are Montana, Alaska, New Mexico, and Hawaii. Prices of each meal kit may vary depending on the number of meals you intend to have delivered and the number of serving portions. Dinner meals at 4 sets a week start at 10.99$. We've been so absorbed with telling you what Sun Basket offers we got way off-track! Going back to how things work, after selecting the meal for you, you get to select when the food gets to you. Next thing you know, the food is already at your doorstep!
What type of vegan/ vegetarian ingredients?
Now for all the vegans and vegetarians out there, Sun Basket is here for you, that's for sure! Going vegan may prove to be really tough in this age when all the most convenient foods have animal products in them. Alas, Sun Basket has taken the challenge by heart and rose above it. To ensure that they capture the natural taste of most meals, while staying vegan, Sun Basket has innovated its way into formulating the best alternatives for the vegan in you.
We know not everybody was born a vegan and the regular temptation to take a bite of that cheese lingers in your mind. Fret not for Sun Basket has made their own vegan "cheese" sauce. Made from a blend of almond milk, cashew butter, granulated garlic, onion powder, and yeast, this cheese sauce will give you that taste you oh-so love for your pasta and regular cheese needs.
This is just one of their innovatively conceptualized condiments that make-up their Vegan Pantry. Their pantry offers the greatest alternatives to the macronutrients needed by the body:
Fats – avocados, cashew butter, coconut oil, olive oil, and nut and plant milk;
Proteins – chickpea flour, tempeh, and tofu;
Umami – eggplant, miso, mushrooms, and nutritional yeast; and
Sun Basket seasonings and sauces – vegan "parmesan", vegan "oyster sauce", vegan "cheese" sauce, vegan Sloppy Joe seasoning, and Tahini goddess dressing.
Oh, don't get us started with the "oyster sauce" their kitchen has whipped up for us. Their version of this traditional Asian condiment is made with coconut aminos, canola oil, fresh ginger, porcini powder, and tamari. What's that? Yes, you read that correctly, it's completely vegan!
Some consumers may be a bit apprehensive in using MSG to provide the umami taste in their food. Several studies have provided information that the predominant taste in mushrooms is comparable to the umami taste that MSG provides and is usually used to enhance the flavor of dishes.
A fat by any other name would be as healthy – even more so!
Sun Basket also has listed their best alternatives when it comes to serving their vegan customers. One of the best advantages of venturing into a plant-based diet is its positive health benefits such as reduced rates of cardiovascular diseases as a result of the intake of saturated fat from processed meats. Avocados are a great source of the healthy fat alternative as they are rich in monounsaturated fatty acids. Several studies have shown that avocado is a fruit rich with these fatty acids on top of other nutrients.
Sun Basket features two top-rated recipes for individuals who are trying to cut on their consumption of the "unhealthy" fats. Featured under their Vegan recipes are
Five-spice black bean and cremini tacos with avocados with only 570 calories/serving. This recipe boasts having multiple layers of flavor while maintaining a rich and creamy texture from the red pepper-cashew crema and avocados all on top of your mushroom and black bean tacos.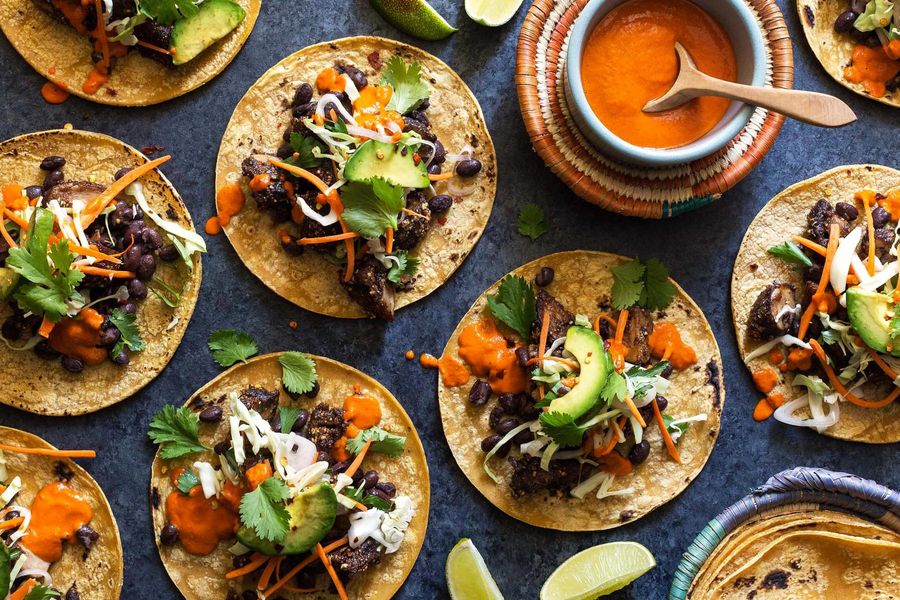 California tofu bowls with avocado and nori can! With just 20 minutes of preparation, you get a rich rice bowl dressed with miso glaze and adorned with 100% organic avocados, cucumber, toasted sesame seeds, and nori. Did we mention it's completely plant-based? Of course, it's plant-based!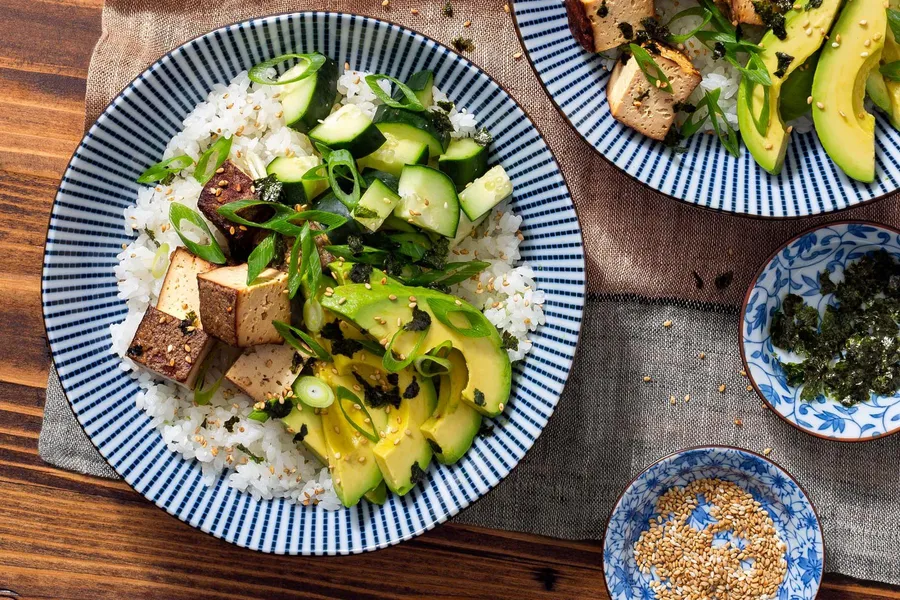 Over the years, several scientific studies have proven that the intake of monounsaturated fatty acids have beneficial effects in reducing the risks of cardiovascular diseases. "So, what if they are?" you ask? Guess what, avocados are rich in them! A mere 100g of avocado has approximately 15.63g of monounsaturated fatty acids free from cholesterol and is also a good source of fiber. Truly, avocados are functional foods!
What type of vegan protein does Sun Basket use?
One of the greatest controversies of going vegan or vegetarian is the possibility of inadequate protein intake. Sun Basket is very much aware of this and made sure to have done their research for you. In addition to tofu, they have clearly presented an array of alternatives to create a well-balanced and vegetable-centric diet just for you! Some ingredients that Sun Basket takes pride in are nuts and legumes which are known to pack a punch of proteins and fibers.
Most vegan meals from this company are a combination of multiple ingredients to ensure that you get what you need to remain healthy and satisfied from plant-based ingredients. It may be harder to achieve a meal with all the necessary nutrients required for an individual, but it certainly is not impossible! Studies have shown that ingredients such as legumes, nuts, and seeds are enough to cover the full protein requirement for adults who partake in vegan or vegetarian diets.
Sun Basket has tinkered their recipes to provide you with great vegan recipes while letting you achieve that much-needed amount of nutrients. They offer recipes that pack a bunch of protein sources:
Korean Jajangmyeon noodle with tempeh, greens, and black bean sauce and their crispy tempeh tenders with BBQ sauce and lemon-shallot green beans. I bet you're asking us, "Where is the calcium and proteins in those recipes?" The answer is tempeh! The traditional Indonesian fermented food is known to be rich in essential nutrients such as iron, calcium, and fibers .
Basket's Pumpkin chili with kidney beans and red pepper! With just 4 easy steps, you get 2 servings of a soy- and dairy-free vegan meal! On recipe menus, Sun Basket lists all the things which will be shipped to you including some make ahead instructions.
Eggplant and potato moussaka with lentil-walnut kima. This recipe is Sun Basket's take on the classic Greek food with a vegan spin to it.
Sun Basket works closely with dieticians to ensure that they provide you with the information that you need, they include the nutritional composition of each meal based on the amount of servings you purchase. These recipes we just mentioned pack a lot of proteins in them. As Sun Basket would term it, while on their own, individual ingredients may be low in protein, but a plate filled with the combination of different vegetables, legumes, whole grains, nuts, and seeds would often add u to enough protein that an individual would need.
You've got tofu-be kidding us!
Bad pun aside, one of the greatest sources of plant-based proteins has got to be tofu. Assuming that you are not deadly allergic to soy, tofu has got to be your go-to protein source as vegan/vegetarian. Tofu, or soybean curd, contains all nine essential amino acids and is also a good source of calcium and minerals, as well as manganese and phosphorous. In addition to being nutritious, tofu has got to be one of the most versatile ingredients there is. You can fry, simmer, boil, blend, or eat it as is! It also goes well with any sauce you can think of. You don't believe us?
Sun basket has over five recipes featuring their take on tofu as BURGERS.
With its charred, smoky, and sweet combination of flavors the Spicy barbacoa tofu burgers with chipotle cauliflower and guacamolewill surely be a treat for you. With an option to include their smoke-dried jalapenos, these burgers pride themselves with two big Hodo tofu burgers giving you only a total of 680 calories per serving.
Eggplant and tofu tikka masala with basmati rice and Lemongrass-tofu lettuce cups with cucumber salad and rice noodles. Known for their exquisite and unique blend of spices, both recipes are Asian inspired which features Hodo Soy firm tofu which will surely give you that hearty flavor punch you crave for.
Let's talk Sun Basket's vegetarian breakfast
We love how Sun Basket has you covered from breakfast to dinner. We've taken the liberty of sharing our top three favorite vegetarian recipes from their cookbook. First up is their vegetarian
Mixed-berry smoothie bowls and Basil and summer squash frittata. Now if you aren't enticed by this for breakfast then we don't know what can. A 5-15-minute preparation time and you get a nutritious and eye-candy breakfast that'll surely bring butterflies to your stomach.
Charred eggplant with caramelized onions, tahini, tzatziki, and pita Talk about giving you that Middle Eastern vibe snack or appetizer to get your appetite going for a bigger vegan meal! Now on to a bigger meal.
We couldn't choose which pasta recipe looked most appealing; it was an absolute nightmare! Alas, we finally chose Fresh pappardelle with peas, hazelnuts, and ricotta salata. When we saw ricotta and parmesan, we all said "Whoop! Sign us in!" Do you know what's so good about ordering a pasta meal kit from Sun Basket? They send you fresh pasta along with all the freshest ingredients! They even give you the chance to choose if you want chiles in! As most of us might've gotten used to cooking with the dried pasta, Sun Basket reminds everyone the difference between the two; giving us a head start notice on how to cook it.
Being a vegetarian is all about making the right choices and Sun Basket understands that. There are several technicalities that surround vegetarianism. Some individuals consider themselves to be lacto-vegetarians or those who incorporate dairy products in their diet, whereas some are ovo-vegetarians and allow consumption of eggs.
Say "cheeeese!" – and eggs.
What about the vegans who were cheese lovers in their "past lives" you ask? We have mentioned about this ingenious cheese Sun Basket has whipped up, but have we mentioned where they fit perfectly into? There are two words that must be considered mortal sins for vegans and non-lacto-vegetarians – cheese and burger.
"Cheesy" tofu burgers with corn on the cob and roasted matchstick fries. With this recipe, Sun Basket gives you the blow-by-blow instruction on how to satisfy your cheese and burger-craving soul while maintaining your vows of being vegan or not partaking dairy products intact.
Spaghetti "Alfredo" with shaved asparagus and charred tomatoes! Now you can get that creamy pasta you miss without the guilt of ever touching any cheese at all. The ingenious way of using almond milk, cashew butter, garlic, and nutritional yeast stands-in for that creamy cheese sauce you've been used to. Stay vegan without the craving for that cheese!
For those who do not want to be associated with eggs, Sun basket offers you their Spanish "tortilla" with roasted fennel-citrus salad and Marcona almonds. Not to be mistaken for a tortilla wrap, with absolutely NO EGGS, this Spanish version of a frittata ingeniously uses chickpeas to bind all the organic goodness into one cohesive and brilliant dish. Not only do chickpeas give you that much-needed protein, but they also come with iron and fibers!
Learn more about Sun Basket's breads and soups
I need breads and soups.
So, we know you have the usual cravings for snacks. But of course, they have to be healthy, and not to mention vegan/ vegetarian! *wink* Sun Basket offers more selection by partnering with other brands. For your bread supply, Sun Basket has teamed-up with great brands such as:
Young Kobras for their Gluten-free sourdough half-loaf,
Atoria's for their Mini Lavash Flatbread(top image) and Garlic naan (both egg-free),
Mi Rancho with their Gluten-free organic corn tortillas (8 count),
and much much more! These brands will surely satisfy your needs for a good partner for those savory dishes, or sweet ones.
For quick broths and soups on-the-go, Sun basket has partnered with brands such as Nona Lim, Souergirl and Skinny Souping. Certified to give you an array of healthy choices to warm up your tummy! Starting with
Nona Lim's broths and soups in varying tastes such as their Carrot ginger soup(mid image), Miso broth, and Tomato Thai basil soup.
If you're looking for non-GMO-based soups, then Skinny Souping is here for you. Try their Butternut squash coconut curry (bottom image) and Broccoli lemon arugula soups and be dazzled with flavors and healthiness.
Last, but definitely not the least, spice up your meals with Soupergirl's gazpachos that come in two flavors, Tomato and Beet.
These amazing products are all from companies who always put their customers' health first. Believing in "real food", maximum nutrition, helping organic farmers, surely you are getting more than what you pay for.
Sun Basket hooks you up with their pasta and sauce suppliers.
If you're pasta lovers like us, you have surely asked yourselves, "Where does Sun Basket get their vegetarian pastas?" The answer, Talluto's! They offer vegetarian pastas such as
Fresh spinach linguine
Asiago tortellinis filled with cheese.
Talluto delivers each customer 100% fresh pasta ensuring you that you get only the best and most versatile pastas you can get. What goes best with pasta? Sauce of course! Hailing from Talluto's pantry they offer two vegan sauces, one is
Rose sauce which is a blend of tomatoes, fresh cream, basil, and spices; and
The classic Marinara sauce.
For our vegetarians out there, with less strict diets, Talluto's offer their
Fresh sweet basil pesto; and their
Fresh arrabbiatasauce.
Talk about choices!
Did someone say Sun Basket's desserts and snacks?
We know you've been dying to read this. We will pretend that you did not skip all other parts of this article and jump right into this vegan dessert section. The answer is a resounding "Yes! Sun Basket offers vegan desserts and snacks!" Although Sun Basket rarely offers meal kits for desserts, they surely did not pass up on the opportunity of providing you with great – and healthy – selections.
From their menu, Sun Basket features seeds and nuts snacks such as
MatizEspaña's Marcona almonds;
Roasted Indonesian cashews, chile-lime leaf from Nuts+Nuts; and
Vegan Mexican hot chocolate walnuts.
If you're up for some chips and crackers but you're worrying if you'll still be vegan after consuming, do not worry! Hu Chocolate company is bringing you dairy-, soy-, and gluten-free, plus pale, and most importantly vegan goodness with their
Paleo sea salt crackers. Sun Basket offers a lot – and we say a lot – of selections of snacks to choose from.
Pizza-flavored mushroom snack by Shrooms. Crispy, thickly cut non-GMO mushrooms flavored to perfection to satisfy your snack cravings. What's more is its low-sodium and cholesterol-free.
Now, if you're not too stingy on the cheese, Tillamook offers their personal-sized cheeseboards with sharp, white cheddar cheese accompanied by their signature spread from sweet Oregon marionberries, and rosemary crackers. Grab one of their Sharp berry crunch cheeseboards, all you need is a good glass of wine and you'll always be ready for snack time. For more of Sun Basket's snack selections, visit their menu.
For the moment you've all been waiting for, the desserts. Sun Basket makes up for their lack of dessert meal kits by offering us vegetarian/ vegan dessert goodness sourced from their trusted partners. Confused if you will be having dessert or breakfast? Tough choice, but why not go for both?
With the Core Bar's Organic overnight oat bar (dark chocolate-cherry);
88 Acre's Dark chocolate granola clusters
you won't have to choose between the two! Being certified vegan, all you have to do is get yourself some almond milk and you're good to go.
But what about chocolates? Sun Basket's snack partner Hu Chocolate offers us the best way to get our hands on that chocolate we've been dying to taste – and it's vegan!
Hu Chocolate offers a variety of chocolates such as Vanilla quinoa Qrispy dark chocolateand Chocolate-covered hunks, with almonds and sea salt
and many more for the late-night snacks that does not only satisfy your cravings but also helps you keep healthy. No one has to know you have them hidden beneath the vegetables!
Dairy and egg-free desserts you'll surely love. "How?" you ask? One of our answers is the Frozen mango coconut whip. As Sun Basket strives to give you alternatives to satisfy your cravings and health needs, they offer recipes made by their own chefs and partners on their cookbook. Experience chilling with this vegan treat filled with surprises. Want to know what makes this dessert oh, so, creamy? Blended bananas! This ingredient gives this recipe the cream, yet cream-less, texture to it with the powerful flavors from the Tajin spice; a blend of chiles, salt, and lime.
Bring out the vegan-themed summer vibes up in here! We know chocolate has to be in everything you eat and in here, we won't judge you for it. Sun Basket teaches us how to get our chocolate cake fix with their Vegan chocolate cake with sweet dukkah topping. Completely, egg and dairy-free, this cake is brimming with healthiness into it. If you're more of a visual recipe follower, Sun Basket has featured video tutorials for you in most of their featured recipes. As much as we want to beg Sun Basket to provide us with the necessary ingredients for this recipe, they remind us that these are just bonus recipe and that ingredients are not included in the box!
Hold up! There's more!
Just when you thought we've laid out all that Sun Basket offers, think again. Since the point of being vegetarian and vegan is choosing a healthier lifestyle, Sun Basket is all out on this. For our vegan who are missing the sweet taste of yogurt, Sun basket offers
Harmless Harvest's Organic dairy-free strawberry cultured coconut yogurt drink made from young Thai coconuts and probiotic cultures that will help you achieve better digestion while giving you the sweet and fruity flavors of strawberries.
The Coconut Collaborative provides Sun Basket with Vanilla flavored coconut yogurt that is low sugar while still being creamy and decadent.
For your late-night trips to the kitchen and sneak around to make a sandwich, you might want to try these spreads
Almond cashew power butter by Spread the Love which is vegan, dairy-free, has no added sugars, and most of all, power-packed with proteins and vitamin K.
Kween's Granola butter boasting a blend of flax seeds and oats, mildly sweetened and flavored with cinnamon and maple that's completely vegan and gluten-free.
We're not suggesting you eat this every night! You came up with that idea.
In case you want something else.
Sun Basket offers more than what meets the eye. In this article, we only tackled how Sun Basket caters vegan and vegetarian diets but oh, boy, there's more! Like what we introduced to you in the beginning, Sun Basket also offers custom meal plans that are
Paleo,
Gluten-free,
Diabetes-friendly,
Lean and clean, and even
Mediterranean diets (and more!).
In one of their selections, you get to choose from a menu specially handpicked by their award-winning chef or if you are just that quick and easy cook kind of person, they got you covered! In case you want to skip on a day with Sun Basket, they completely understand. They let you cancel or skip a delivery as you want them to by just prompting them through their toll-free line prior to the weekly cut off every Wednesday before your delivery at 12 p.m. PT/ 3 p.m. ET.
If we were you, we'd get going and check out their website now. See and taste for yourself and tell us your experience.